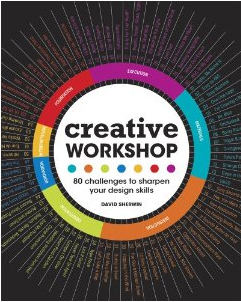 I picked up this little beauty on Kindle Store for 8 quid this morning. It looks like a fantastic way to improve my skills and fill my weekend up with interesting things to do. So far the book has been a great read, even though Kindle formatting does hinder the beautiful design I saw on other screenshots on the web. Also there seems to be no pictures, which is a shame, but does not take away from the core experience.
The first challenge then is the "Hello, my name is..." challenge. I had 30 minutes to answer a few question about myself and design a logo that is clearly informed by my answers to these questions.
I will update this post in real time as I go along with the challenge.
First are the questions.
What are my three strengths as a designer?
I come from a background of illustration and comic books thus making my designs atmospheric and with a unique painterly aesthetic.
I have a solid grasp of the fundamentals, being it composition, rhythm or colour.
I don't really do design. Therefore I can list excellent painters, but not designers. Therefore I have a fresh perspective that does not conform to pre-existing norms and trends.
My weakness?
Since I don't really do design, more illustration and concept design, I lack knowledge of typography.
My experience is limited therefore I am not very confident with some of the finer points of design.
Due to my lack of formal training I tend not to utilize existing material for inspiration, therefore unable to create unique designs that show off different styles For example, all my designs tend to be very minimalistic, simple nice font on clean background, and I wouldn't be able to tell you the difference between Bauhaus and grunge. Something about chairs and textures.
What is my favourite colour?
Usually I'd answer that with "anything that creates the atmosphere that I'm looking for" but for the simplicity of this exercise's sake I'll say muted greens and grays with accent of complimentary. Or to simplify it even more, that orange that is almost red, like a carrot. Makes me all warm and fuzzy inside.
What designers do I love?
I honestly don't know. From the world of concept design I love Feng Zhu, Simon Cloche, Syd Mead, Charlie Bowater, L.D. Austin, Simon Stalenhag and so on. The list is quite big.
What design work do I enjoy?
Concept design for games. That's my thing. However I also enjoy making posters for bands, book jackets, CD covers and making comic books. I also love making infographics. Something about trying to visualise all that data on a page that makes my brain wrinkle, in a nice way.
What kind of work do I want to do in the future?
Promotional art for video games, be it making it or arranging it for marketing, concept design for games, maybe some editorial work, branding has always been kinda interesting to me. Maybe advertising, because it has a huge potential for creativity, especially guerilla advertising.
Having answered these questions it's time to brainstorm ideas for a logo and make my brand identity. I spent 20 minutes brainstorming ideas and doodling, until I came up with something that I liked and it seemed to communicate exactly what I wanted. The logo below communicates, in my opinion the fact that I like Russian folklore, that my favourite colour is orange and that I can be both playful and professional.
I wanted to evaluate what I just created using the approach used in the book.
SCAMPER: S
ubstitute something,
C
ombine with something else,
A
dapt something to it,
P
ut it to some other use,
E
liminate something,
R
everse or
R
earrange it. However I now realise that it is used more during the idea generation stage. I wrote it out here to share with you guys.
So instead just a few notes I'd tell myself if I was my boss. I'd remove the swirls at the end of Artsy, put less textures in and make the A in Artsy more prominent. At the moment it looks kinda like RTSY design.
This concludes this exercise.
Peace.